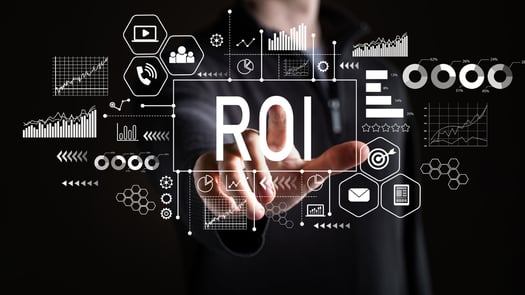 There's a lot of time, money, and effort that goes into crafting a good website, and a truly great website is never really "done." It's a major resource for your organization, but it also requires a lot of attention.
Websites aren't inexpensive. According to HubSpot, the average cost of building a new website in 2021 can range from $12,000 to as much as $150,000 depending on the scale and functionality of your website. And this cost is only for building a site! Maintaining a website can run a company somewhere between $400 to $60,000 per year! However, taking simple steps to maximize the value and accessibility of your website can boost your return on investment (ROI) in the form of new traffic and new revenue. For example:
Improving your search engine optimization can have a big impact, as consumers focus on organic search results

94% of the time

.
Updating and refreshing existing content can increase organic traffic by

111.3%

.

71% of individuals

with disabilities abandon a website that's difficult to use, culminating in lost business to the tune of $14.4 billion annually.
With all the resources you are pouring into your biggest online asset, you want to be sure that people are seeing it! To ensure that your website is doing its job, you can put in a bit more effort to multiply your website value and bring more qualified leads to your site.
Maximizing the return on your website investment isn't challenging, but it takes some thought. To create a high-value site, you want to build and nurture a website that's accessible for everyone, has a reputation for top-level security, and is easy to locate organically to drive new traffic. Here's what you should know about maximizing your website investment.
Ensure ADA Compliance
According to B the Change, a website dedicated to sharing the stories of those who use their business for good, 20% of your website's traffic could be coming from people living with some kind of disability. For some organizations, like those that work in the healthcare sector or offer specialized services to the elderly, this number could be even higher.
It's our responsibility to create websites that are accessible for everyone. Sometimes, digital accessibility practices are cut from projects because team members don't understand the importance of the issue or they have budget concerns about how much it might cost. But if 20% of your visitors might require some kind of assistive aid to navigate your website and it's not accessible to them, that's 20% of your audience that you lose right off the bat.
The federal Americans with Disabilities Act (ADA) might make you think of physical locations and accommodations like wheelchair ramps or the use of Braille for customers who are visually impaired. However, in 2010 the U.S. Department of Justice passed the Americans with Disabilities Act Standards for Accessible Design to make electronic and information technology (like your website) accessible for those with disabilities like vision impairment or hearing loss.
While there aren't clear ADA regulations that outline exactly what makes a site compliant, public-facing businesses and organizations are required to develop and present a website that offers reasonable access to those with disabilities.
But more important than following federal mandates? It's just good business! It expands the reach of your organization to a larger, more inclusive audience.
An ADA-compliant website should include elements like:
Perceivable Accessibility: This refers to how easy it is to overcome any content barriers that may come with an impairment of the senses and refers to things like alt-text for images, text descriptors for non-text content, and video and audio accessibility.
Operable Accessibility: It must be easy for all users to navigate your website beyond using a mouse or trackpad and should be operable using just keystrokes. Any timing should be adjustable.
Understandable Accessibility: Information is presented consistently in presentation and format, with a general overall predictability as to how the website is used.
Robust Accessibility: Accessible technology needs to be robust and compatible with all technologies so users can interact with your website and online content using the technology of their choosing. Markup languages, start and end tags, and other elements should be nested appropriately, and content should be well-formed so it can be understood by adaptive devices like screen readers.


Build a Strong Foundation of CMS Security
A secure content management system (CMS) isn't just a great tool for technical and non-technical users to build a website and connect with leads, it's also crucial for maintaining your brand reputation. After all, even the best website on the web with the best customer service team won't matter if your reputation has been damaged by a successful cybersecurity attack.
One example of this? In 2017, Equifax shared that they suffered a breach that exposed the personal data of 140 million people. This announcement greatly impacted the organization's reputation. Their "Buzz Score," a ranking of how negatively or positively people feel about a brand, fell by 33 points in a matter of 10 days. By comparison, this was a 44% larger Buzz decline than when Chipotle dealt with an E. coli crisis in 2015.
Consumers are concerned about security, which means you should be too.
To keep your CMS protected, the following back-end assets need to remain secure:
Web servers
File systems
Operating systems
Databases
Administrative tools
On the front end, your CMS should defend against cybersecurity threats as well. Many organizations use tools to pinpoint and deal with attacks like:
Managed detection and response
An incident response plan
An intrusion detection system
The better protected your CMS is, the less likely you are to fall prey to a cybersecurity attack that could deter consumers from doing business with you.
Implement Search Engine Optimization Strategies
No one can get to your website to see the value in your brand if they can't find it online! Search engine optimization (SEO) gets talked about a lot, but there's a reason for this. The higher up your site lands on a results page, the more likely it is that you'll get noticed by people looking for a product or service just like yours. Good SEO also improves your credibility and builds trust in your brand.
53% of all online traffic comes from organic searches. What's more, the average click-through rate (CTR) for the first Google desktop search result is 32%. Improving your SEO ranking is crucial to building value for your brand and getting the most out of your website investment.
How can you help Google find your site? While you might be tempted to try tactics like keyword stuffing or layering invisible keywords onto each page, these attempts are crystal clear and can actually tank your SEO ranking. Instead, Google's webmaster recommends building your page primarily for your users instead of for search engines and avoiding tricks and shortcuts that don't help your users. Instead, think about what makes your website (and your brand) unique, valuable, and engaging, and work to make your site stand out from your competition.
Other best practices include avoiding things like automatically generated content or linking schemes, cloaking, hidden text, and sneaky directs.
Engine Room SEO partner, FourFront, offers a helpful checklist for optimizing your website. They recommend:
Transitioning all relevant content from your old site (and fleshing out thin content) when migrating to a new site.
Update metadata like optimized title tags and meta-descriptions.
Redirect old pages to newly created ones.
Install Google Analytics to track and report website traffic and better understand your customers and site visitors.
Verify your website in the Google Search Console to get data regarding performing keywords, click-through rates, clicks, impressions, and your average position.
Add a 404: Page Not Found page to help visitors find what they are looking for. Include an error message, your navigation menu, and a link to your search page or home page.
Proper website maintenance and management — like ongoing SEO work, security, and accessibility — can improve your overall user experience, get better feedback from visitors, and enhance the value of your website, making it more trustworthy and easier to find and access.
At Engine Room, we have the tools and the team to help you build and maintain a value-driven website that attracts new visitors, earns their trust, and is usable and navigable for all. To learn more about how we can help you maximize the return on investment for your website, connect with our experts today!