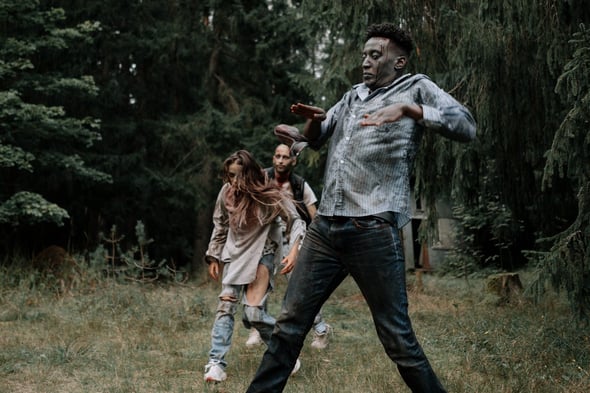 As I left for work this morning I drove alongside our vegetable garden in front of our house. Normally, by this time of year we are just wrapping up harvesting a successful third crop of vegetables including late season goodies like squash and pumpkins. That said, due to the pandemic and some realigning of responsibilities around the Egen house this year, I was in charge of the garden. As I drove past the mangled, fruitless result, I couldn't help but think of how similar the disorganized mess was to website maintenance and how some simple planning on my part and a little more diligence could have resulted in a successful crop this year… the only successful output for 2020 was some strawberries that were eaten by rabbits (or Philadelphia rats, I'd rather not know at this point) and a green tomato here and there.
Website Maintenance is similar to planting and maintaining a garden. It requires proper planning, adherence to best practices, upkeep and defensive measures. Read on to see how some proper planning and upkeep can ensure a fruitful website for you and your customers. After all, your website is the front door to your brand. It deserves the attention.
Have a plan
When we at Engine Room build a website, we always encourage customers to develop what we call a website governance plan. The objective of a solid website governance plan is to have the right people in charge of the right things at the right time during the build phase of a new site, and then into the maintenance phase. You'll want to be sure you at least have:
A steering committee that meets regularly to determine what changes to the website can be made and what cannot. This will help ensure that any new proposals (a new landing page, new imagery on the homepage, etc.) meet a specific and measurable business need.
A defined change control process governed by the steering committee that spells out what steps one needs to take and what questions need answering before someone in your organization makes any significant changes to the website.
An approval process for ongoing content updates to the website.
When in doubt, use a template!
Most websites really only need 4-6 content templates. For example:
Home page
Landing page
Sign up form
Content section
Detail page
If it's ecommerce you may need a few more. Nudge your content editors to use a template for their campaigns, or content whenever feasible. They should only go 'custom' if it's absolutely necessary.
Create gates - and keep 'em closed!
Keep out those rabbits! Make sure your change control process has the right 'gates' to keep the gremlins out and to optimize your content. Just planting the spinach isn't enough, it needs nutrients to grow well. For example, just writing that landing page for your next event is not enough. Is there a check for:
SEO Keywords in the content
Proper use of branding
Voice - does it sound like us
Accessibility - do we have proper headings, alt tags, color contrast?
Backlinking - have we linked to other relevant content like a blog post on the same topic?
Have a well defined approval process
Apparently cabbage and strawberries are not "good friends" in a garden. A little strategy up front and I would have realized this. Similarly, does the content being planned for your website ladder up to a content plan that is derived from a solid strategy? If so, document it. Have a well defined marketing or communications strategy, put it in a Google Doc or other centralized place. Then, your content calendar should be derived from that and link back to it. After that, each piece of content should link to the calendar. This should also be enforced either by the steering committee in a smaller organization, or a subcommittee for a larger team.
Keep the technology up to date
An ounce of prevention goes a long way in regards to website maintenance. There are many tricks to prevent things from going wrong in your garden, and to handle issues, like insect infestations or animals.For instance, did you know you can trap slugs with beer?
Website maintenance is not just about the content. Be sure your website is secure, including proper patching and defences against hackers.
Don't be afraid to cull and sunset content
Weeding was the one thing I wasn't terrible at this year. Maybe it's because I can be a bit of a neat freak. Maybe it's just because it is the most obvious step to keeping your garden growing. That said, sometimes, it wasn't as clear what was a weed and what wasn't. With the help of apps like Picture This I was able to figure out what to pull and what to leave.
The tools are different for website maintenance but the concept is the same. You want to focus your attention, your SEO score, and your updates on what is growing and get rid of anything else. You don't want to leave 'zombie' pages or content on your site that is not forwarding your mission, or worse, choking off the fruitful stuff, by diluting your page rank, or by opening you up to attack by a hacker (side note: old forms or pages can leave open holes over time for attackers).
So, have a quarterly or monthly meeting and use tools like Google Analytics in concert with something like Screaming Frog to see how your site is performing and what can get the old axe. If content is performing, double down on it. If you move anything around don't forget about 301 redirects.
Don't worry if you are not doing all of this yet. I will be back to the garden in the Spring with a better plan and an optimistic outlook (if my wife doesn't rightfully fire me after this performance). I will be refocused in February creating a plan. So be ready, you can start planning now to improve your website maintenance plan.