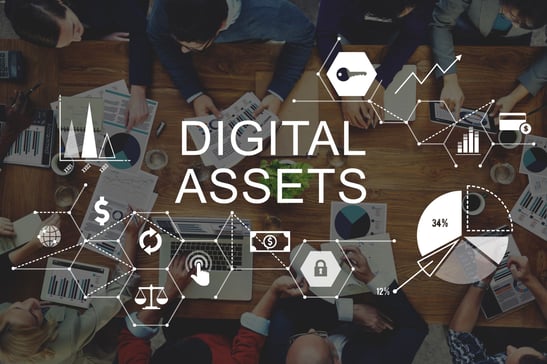 Are your digital files and assets easy to locate and use? Not everyone has an easy way for their teams to access what they need. Here's a shocking statistic:
Over half (54%) of respondents in one study regarding digital asset management shared that they had used Google to search for their own company logo.
Additionally, Demand Metric's The State of Digital Asset Management in 2020 shared that 51% of marketers waste money to reproduce or recreate existing assets because they don't know how to locate them or didn't know they existed.
Digital asset management (DAM) is poised for strong growth in the next five years, and those organizations that use WordPress as a digital platform should pay attention. DAM can streamline work done on WordPress and create a unified look without excess effort.
What Is DAM, and What Are the Benefits?
Digital asset management refers to two different things: a strategy and a technology solution.
DAM means controlling digital assets between organizations and the partners with whom they work, offering flexibility, portability, access, and reporting of assets so that the right content gets to the people who need it. This includes graphics, videos, and larger collections of files but also the metadata surrounding these assets.
DAM is a technology solution to organize, classify, and store digital files like copy content, digital layouts, imagery, and videos across a variety of formats like Word documents, PDFs, JPGs, and PNGs. This makes the task of storing and retrieving, managing, editing, and distributing creative assets much more efficient.
DAM tools enable organizations to automate their workflows, manage copyright permissions, and streamline cloud experiences for their users. This makes DAM beneficial for sales and marketing teams across a variety of industries such as Banking, Insurance, Retail and Manufacturing.
Thanks to the exponential rate of digital transformation and the increasing adoption of cloud-based services, plus the need for workflow collaboration, organizations increasingly require a way to securely share assets and their metadata. DAM meets those needs and offers a number of additional benefits:
Offer improved access to digital assets
Aid in scalability and operational speed
Empower the integration of artificial intelligence into the creation and use of assets
Enable more research and development regarding information technology and the efficacy of certain assets
Most importantly, digital asset management solutions make it easy for teams to find what they need when they need it. In fact, 40% of participants in The State of Digital Asset Management in 2020's study shared that they did not have a unified, single source to find the assets they needed and reported that it was difficult to locate digital assets.
A DAM solution makes it easy for team members to locate things like logos and templates, which are critical to brand continuity. Why does this matter?
Brand consistency can increase revenue by 33%.
90% of businesses say that brand consistency matters, but only 10% say that they have consistent brand representation.
When you work with a DAM solution, you get a more consistent brand story, an easier workflow, and better data around each asset you use.
The Merits of Using Content Hub for Your WordPress Site
Sitecore's Content Hub is a DAM solution that functions as a home base for all of your organization's disparate content by streamlining, accelerating, and simplifying work with a transparent view of assets and how they are used, adding value to your assets and collaborative processes. Content Hub works seamlessly with Sitecore XP, but it works with many other platforms too, which means users can purchase and use Content Hub separately from Sitecore without having to buy Sitecore XP. Content Hub integrates well with other solutions, including:
Adobe Creative Cloud
Javascript SDK
And more
When implemented and used correctly, Content Hub serves as much more than a basic storage platform, managing complex metadata, security, and digital rights management. Content Hub serves as:
A Content Marketing Platform (CMP), which helps you pinpoint any gaps in the kind of content you need for your marketing efforts and makes it simple to plan and execute a content strategy. It supports organizations as they plan what content they need to create, assign these resources, and collaborate, review, and approve assets in one place.
A Product Content Management (PCM) tool, which is an organizational system that is used to store information related to products or services in a product-oriented format, arranging all customer-facing product information like commercial descriptions, benefits, translated content, and media.
A Marketing Resource Management (MRM) tool, which manages marketing calendars, creative reviews, approvals, performance dashboards, and more.
What sets Content Hub apart isn't that users can access each of these features independently; it's that this DAM tool replaces separate DAM, CMP, PCM, and MRM tools and acts as a single, unified based for all of your digital assets, plus it serves as a single spot for collaboration and creative project management.
With Sitecore's Content Hub, your organization can:
Manage virtually all digital asset file types
Reduce the time it takes to tag, locate, use, and share assets
Employ machine learning to tag your content
Preview images, videos, layouts, and other file types in context
Reduce risk by enforcing digital rights management protocols
Move assets back and forth from design tools like the Adobe Creative Cloud with ease
Content Hub securely stores your assets and their metadata and also fosters a productive, creative, and collaborative process. With all of these tools in one convenient solution, it's far bigger than the sum of its parts.
Why You Need to Connect Content Hub to Your Existing WordPress Site
WordPress is a powerful content management platform, which is why it's used for more than 64 million websites, supporting 64.1% of all content management system enterprises. Each month, 400 million people access WordPress sites, so it makes sense that the world's most expansive DAM tool, Content Hub, would — and should — connect with WordPress.
Sitecore's Content Hub now offers an integration for WordPress, which makes it easy for users to manage each aspect of their marketing content for every channel in one integrated solution.
Sitecore Connect for WordPress is a seamless integration between Sitecore Content Hub and WordPress, which enables users to directly insert and track assets from Content Hub into WordPress posts and pages.
Setting Up Content Hub for a WordPress Integration
Establishing an integration between WordPress and Content Hub is fairly simple but requires some setup on both the Content Hub and WordPress platform sides.
Setting up the Content Hub side of things calls for two major steps:
To configure the Sitecore Connect for WordPress zip. file, users should download the WordPress connector zip. file, then customize the plugin.js file for your instance. This adaptation means that the URL inside the plugin.js is altered so that it points to the right Sitecore Content Hub instance for your organization.
The next step is updating the CORS configuration in Content Hub, which allows access for the WordPress instance.
Setting Up WordPress for Content Hub
To enable integration with WordPress and Content Hub, both Content Hub and WordPress need to be set up to allow the two platforms to communicate. This has to happen with the integration of Sitecore Connect for WordPress.
Setting up requires completing the following steps:
After configuring your Content Hub and WordPress instances, you can use Sitecore Connect for WordPress to insert assets from your Content Hub into your WordPress site using public links.
Ongoing Assistance from Engine Room Tech
Anymore, your digital assets are a valuable part of your site and your brand. Content Hub is an intuitive digital asset management tool that removes the extra steps of managing and tracking your digital assets yourself so that they are always available to you.
At Engine Room Tech, we understand what it takes to create a website that works for you — and that includes the tools like a DAM solution that keep your site up and running. We're eager to help you implement DAM tools as part of your full digital transformation strategy. Ready to see what we can do for you? Contact us today!