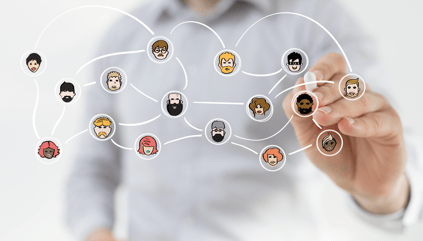 Did you know that according to Nielsen's 2022 Global Annual Marketing Report, only 26% of marketers worldwide feel confident in their customer data? Without detailed and reliable customer data, effective, targeted marketing is practically impossible. That's why Customer Data Platforms (CDPs) are so integral to any successful marketing strategy - they allow you to create comprehensive user profiles of all of your customers, track behavioral data across all communications channels, and break down data silos that slow your growth. Here are some customer data platform use cases that showcase all the ways CDPs can help you leverage your customer data to increase conversions.
Organize Your Data
CDPs allow you to organize your data in endless configurations depending on what you need it to do. Once you create a tracking plan and a data governance strategy to go hand-in-hand with your CDP, you'll spend much less time corralling data and more time making it work for you. With a CDP, you can unify customer profiles into one master data set for each customer, merging online and offline profiles and connecting anonymous browsing history to known activity.
Personalize Your Marketing
These days, marketing without personalization is like a ship without a rudder. That's where CDPs come in. With their detailed and granular data analysis and customer profiles, they can give you the power to implement highly-personalized marketing campaigns that mean fewer unopened emails and more sales goals hit. Read more about customer data platform examples of personalization here.
Protect Your Customers' Data
A CDP can help you manage your customers' data privacy in accordance with the legislation in effect in your state - the laws vary depending on your location.
Increase Your ROI
Because CDPs let you personalize messaging and segment out audiences in a detailed manner, you can zero in your marketing on only the campaigns that work. You'll know what your customers like and what they don't, so you won't waste time selling them products they're not interested in. With increasingly targeted marketing campaigns, you can increase your company's ROI.
Unify Your Data
A CDP takes previously siloed and fragmented data and unifies it so that you have a comprehensive view of your customers all in one profile. Their ages, buying behaviors, geographic location, and every other thing you know about them are all in one place. Tag customers and segment out audiences to create targeted, personalized marketing campaigns. Never look in 14 places to find one customer's data again. Read more about customer data platform examples when it comes to data silos here.
Time Your Messaging
CDPs make real-time data analysis possible - see what your customers are doing, buying, browsing, and when. Cross-reference this data with their full customer profile and chime in at the exact right time to make a sale.
Synchronize Your Messaging
Customers expect personalized messaging nowadays - from the beginning of their conversion journey to the end, across every communication channel. Know what channels your customers use and when to communicate with them in the most effective yet light-touch way. Come on too strong or at the wrong time, and you'll scare them away. Make a suggestion at the right time on the right platform with the right data behind you, and you'll make a sale.
Want More

Customer Data Platform Examples?
If you want to see more customer data platform use cases and learn more about what goes into choosing a CDP, download our ultimate guide to customer data platforms.