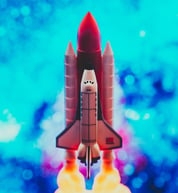 Is your financial institution's website or content platform stuck in the dark ages? It may be time to consider creating a new website using the tools that Drupal has to offer.
Looking to bring your web presence into the 21st century with affordable options and simple integrations? To do so efficiently, you need a Drupal web development company that offers fast, easy migration and support.
You may not be familiar with Drupal. Often there is comfort in knowing you are part of a larger community so here is some information about the worldwide Drupal landscape. Drupal boasts a nearly unlimited supply of free, flexible and cost-effective extensions, including over 40,000 free modules, and it works in over 100 languages, making it a popular choice in our increasingly global world.
What else do you need to know about Drupal's widespread adoption?
Sixteen percent of all websites on the internet are run via Drupal. This includes everything from mom and pop to church and hobbyist websites, so this percentage is likely much higher in the medium to large business segment, which of course includes banks, credit unions, insurance companies and other financial institutions.
Ninety-seven percent of Drupal web developers and organizations that use Drupal are satisfied with the open-source platform.
Over 1.1 million websites are powered by Drupal.
Older versions like Drupal 7 and 8 only will be supported for a matter of months, so now's the time to add Drupal 9. Here's a look at how to implement Drupal for financial institutions smoothly and securely with the help of a talented Drupal web development partner.
Easy Administration and Workflow Creation
You will need to ensure your financial institution's Drupal transition goes smoothly and keeps development downtime to an absolute minimum. In fact, done properly, daily business and financial transactions can continue completely uninterrupted for customers and mostly uninterrupted for your employees. Be sure that you have a Drupal web development team that understands Drupal Architecture.
Drupal offers easy administration for content editors and authors. Add content to the system for marketing campaigns, websites, apps, and all the other data and technology that keeps your financial institution chugging along, and pave the way for financial transactions, payment and fulfillment tools, and more.
Workflows in Drupal provide a digital paper trail for auditing, data integrity and non-repudiation purposes. Your local administrator gains transparency in the process while your Drupal web development company can answer any questions that crop up.
Furthermore, Workflows are at the heart of Drupal Core. Let's say you need client approval for a certain financial operation, exchange or transaction. With out-of-the-box admin themes, Drupal web developers easily can implement all sorts of workflows to automate any of your necessary processes.
Robust Security Program for Your Most Sensitive Financial Data
Your Drupal web developer not only migrates and implements Drupal for your organization but helps ensure the process is safe and secure at all times. A top-tier Drupal security program comes with all the monthly core updates and patches you need to prevent holes that threaten your data security.
FinTech data security is of the utmost importance in a CMS. All kinds of risks can threaten your most sensitive data:
Malware attacks
Data leakages
Application security risks
Availability of critical systems
Drupal's security is always working to make your CMS more secure and to address any security issues as they arise. Generally, open-source software is just as secure as proprietary software—and sometimes even more so. Drupal's APIs all are designed to be secure from the get-go in their default modes.
Just how secure is Drupal? Here's all you need to know:
Drupal served as the platform for the White House website from 2009 through 2017.
Remember, choosing the newest version of Drupal is quickly becoming an absolute necessity for financial institutions. For full security with up-to-the-moment updates and patches, you'll need to upgrade to Drupal 9 as soon as possible. Support for previous versions of Drupal will end in 2021 and 2022.
Pre-Built Financial-Based Coding and Modules
Drupal Core contains all of the basic features you'll need in a content management system, like your taxonomy, system administration, menu management, user account management and page layouts. From there, any company can expand Drupal as much or as little as needed to match its intended use. One way that financial institutions are making the most of Drupal is with Drupal FinTech.
Drupal is leading the financial technology revolution. It can create secure financial transactions, serve as the backbone for your entire financial CMS and support your whole enterprise solution. With Drupal FinTech (financial technology), you have access to all kinds of pre-built APIs and modules to amplify what you do.
Drupal FinTech provides you with a wide array of analytics and data infrastructure options that are specific to your work within the financial industry. Because of this, you'll find that you can create a CMS that's more tailored to your organization, but it's also more complex to implement and support what you do.
Automate business processes with workflow automations that rely on real-time operations and automated data syncs to keep your system running in time with cutting-edge information.
Reduce downtime, stay secure and focus on what you do best. Serve your clients better than any other financial institution with enterprise-wide solutions that are tailored to your organization's unique needs.
What can Drupal do for financial institutions like yours?
Pair data and analytics for a robust, intuitive and flexible infrastructure that works for you.
Scale your comprehensive data ecosystem with APIs—and mitigate risk while you do it.
Leverage Drupal's open-source platform and find new mobile solutions to leave traditional forms of payment in the dust.
Consolidate your marketing, payment and fulfillment tools into one platform so you can reach a wider, more global audience.
Surpass industry security standards with Drupal's rigorous best practices so you always end up with a safe, dependable release.
With the help of your Drupal web development company, you can get the most out of pre-built code and modules, plus you can take advantage of Drupal FinTech and more. Your Drupal developer even can create custom modules that provide exceptionally personalized digital experiences for your customers.
That means you can get a jumpstart on redesigning your website or finally roll out that new app, introducing innovative features that keep you ahead of the competition. Using Drupal is a long-term approach that helps a financial institution accomplish its mission and vision.
Engine Room Develops Drupal for Financial Institutions
Here's the bottom line: Drupal alone is a great CMS, but when you use it to build a FinTech enterprise solution, you end up with one of the most security-focused, malleable CMSs available. And Engine Room's web developers can help you get there.
Collaborating with our team of experts, Drupal can be used to enhance your institution's offerings from head to toe. Here's how one registered investment advisor (RIA) leveraged the power of Drupal to grow their business and serve their clients:
Built a site that showcased products and solutions while also allowing for paid content
Created an end-user experience that was contemporary, mobile friendly and accessible
Incorporated secure calculator tools for client use
Made provisions for content marketing
Created a solution that allowed them to publish content with minimal support from their IT team
Ready to get the most out of Drupal? At Engine Room, we specialize in building secure, efficient digital experiences for financial institutions like banks, lenders and insurance companies. Our clients include Northwest Bank, WSFS Bank, NSM Insurance and AccessLex Institute.
We understand that you need a robust CMS that makes the security of customer financial information a top priority. We know what it takes to make it happen, and we're ready to help.