You want your car to run smoothly; to achieve what you set out for it to do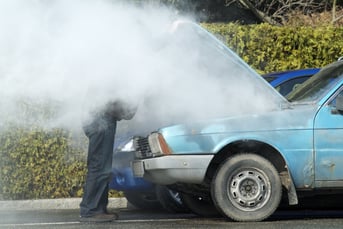 —to get from Point A to Point B. Similarly, you want your website to do the same thing. You want it to attract and convert potential customers and clients and generate business for your organization.
But in the same way your car needs to be serviced regularly, your website needs ongoing care as well. Why is this? From the very first moment they see your page, visitors are forming opinions about your brand. Website maintenance ensures they are forming the right opinion as your site grows and evolves over time.
For example? It takes consumers a mere 0.05 seconds to form an opinion about your website, and 94 percent of these opinions are based on your web design. What's more, 90 percent of users will continue to shop on a website because of a great user experience. Both positively and negatively, your website can have a major impact on your entire organization.
It's time to take your site to the shop.
What Is Website Maintenance?
Your car needs regular maintenance to help you get where you need to go. Once you are the owner of your vehicle, you are the one responsible for keeping your car clean, running, and well-maintained. The same goes for your website. You've invested all kinds of time and resources into the building of your website, plus additional time to create and share content. But it needs ongoing attention, just like your car.
This is the basic concept of website maintenance. Website maintenance refers to the process of reviewing your website to ensure it's performing at peak level. This means doing things like:
Keeping pace with security updates
Publishing fresh content
Fostering traffic
Ensuring top-caliber user experience
Correcting any issues
This is essential to engage and keep customers, which boosts your website's search engine optimization (SEO) and Google rankings to generate more and more traffic to your site. Website maintenance also helps keep up your website's value over time.
Why Is Website Maintenance So Critical?
Without oil changes over 3,000 miles or so, your car won't continue to function forever. In the same way, you can't just "set it and forget it" with your website. Website maintenance helps you achieve several things all at once, making sure your site works like a well-oiled machine:
Hold Customer Interest
A beautifully maintained, up-to-date website continues to bring in new customers while also keeping the interest level of existing customers with fresh content. Website maintenance helps ensure your website is customer-centric, that all information is relevant, and that everything is in proper working order. A website that doesn't work the way it should or doesn't have the most current information sets a bad tone with customers, damaging your reputation.
What's more? An astonishing 87 percent of consumers conduct research online before making a purchase. If your website is hard to use, not mobile-friendly, or gives a negative impression of your brand, you could be repelling customers and sending them directly to your competition.
Keep Up With Search Engine Rankings
Website maintenance doesn't just keep the attention of your customers—it also helps keep your site ranked high on search engine results pages. Many search engines like Google check to see when your website has been modified to see if it's worth crawling the page for new information. Without making frequent modifications, you may cause your site to be pushed below more active competitors, which can cost you business.
After all, the higher your ranking on a search engine results page (SERP), the more likely it is that your website will get clicks and generate business. In fact, the average click-through rate (CTR) for the first result on a Google desktop SERP is 32 percent. And for mobile searches? The rate is nearly as high, with a CTR of 26.9 percent for the top-ranked result.
Uphold Your Site's Security
When a content management system or other piece of software is compromised, developers release security patches to defend against cybercriminals who might find these outdated vulnerabilities and take advantage of them to work their way into your enterprise.
While these patches help defend against bad actors, they are only helpful if all security patches are installed and up-to-date. This is critical to do a few things:
Improve security
Minimize downtime caused by malware and ransomware
Limit or prevent industry-based compliance fines
It's estimated that in 2021, a ransomware attack happens once every 11 seconds, and the cost of an attack has skyrocketed, up from an average of $5,000 in 2018 to an average of $200,000 today—with the highest ransomware payout reaching a staggering $40 million. This speaks nothing of the lost income resulting from downtime and a damaged reputation incurred by many organizations who fall prey to malicious attackers. Regular web maintenance keeps your site as protected as possible.
What All Is Included?
Your organization's website should be checked and tweaked regularly from top to bottom, but what all does that entail? Here are a few of the most important tasks that are critical to a successful website maintenance plan:
Testing your entire website each year, looking for broken links, outdated information, and overall

usability

.
Checking to ensure your website works well in

multiple versions of mainstream browsers

.
Testing the functionality and user experience

of your forms

and checkout processes.
Looking for software updates for your hosting and security providers every month, as well as all other third-party software applications your site uses, and installing all new patches.
Create and store

a complete backup

of your entire website. For automatic backups, you should check to ensure it's working properly.
Utilize tools like

Google Analytics

to review your website's performance each week, and examine your

key performance indicators (KPIs)

to ensure your website is helping you achieve your goals.
By reviewing how well your website is performing and whether or not it's helping you meet your objectives, you can make changes and alterations to adjust your website to best support your overall vision for your company.
Your Website Maintenance Partner
Website maintenance is a personal thing. It's fine-tuned and geared towards your brand's intentions, and requires ongoing attention, which can be time-consuming and confusing. When is it time to "retire" content? What needs to be refreshed—and when—to optimize your website for your ideal audience?
A website maintenance partner is your ticket to efficient, intuitive care of your brand's most important investment: Your digital presence.
At Engine Room Tech, we can combine our extensive industry knowledge in website security, digital marketing, CMS management, and more to hone your site and keep it up and running for the next 3,000 miles (and beyond). To learn more about our website maintenance services, contact us today.